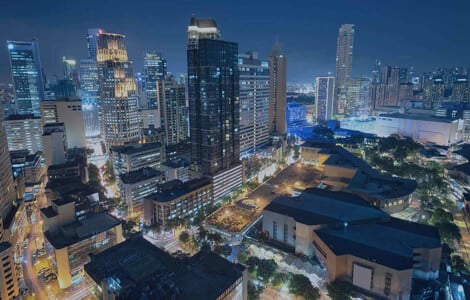 Pre-Selling Residential Projects
In order to be the benchmark of every development company in the Philippines, Rockwell believes in constantly innovating its projects and services. Thus, every developed property has a certain special quality, making it stand out in a highly competitive industry.

Some examples would be the Joya Lofts and Towers, with its unique 20-foot ceiling architecture, the Z-Lofts of One Rockwell, the Garden Villas of The Edades, and The Grove's Garden Units. Another example of Rockwell's unique, innovative designs are the underground passageways which link residents to the Power Plant Mall. Additionally, Rockwell Land is also known for its masterful development plans, its attention to detail, its exquisite landscape architecture examples, and its world-class security features.

One such example is The Proscenium in Rockwell Makati, where Rockwell Land raises the modern standards of quality living in the metropolis. It was designed by the world-famous architect Carlos Ott. Ott's masterworks include the Opéra de la Bastille in Paris. Thus, The Proscenium stands at the modern edges of high-end residential architectural design.

Giving meaning to a new life of comfort and sophistication, The Proscenium condominiums are located in Rockwell Center, Makati. Apart from these, it has five towers to house different spaces to match any kind of lifestyle. It even has luxuries like state-of-the-art amenities which don't go out of style, posh retail establishments for your every need and want, and a world-class Performing Arts Theater for your dose of culture. You can now have the privilege of choosing from a diverse set of leisure options every single day.

A resort-like residential enclave amidst the city, The Grove by Rockwell Land is your new home with resort-like amenities and a relaxing patch of greenery in the middle of the bustle of the cities. You can now find comfort, quality living within reach in a home that keeps you close to your work and even closer to your family. The Grove continues to reflect Rockwell's thrust to provide its residents with a well-balanced lifestyle in a secure and safe community.

It has a wide range of amenities which will distance you from the fast pace of the urban jungle. In the Great Lawn, you can spend quiet, quality time with your family. At the Amenity Deck, you can have a relaxing swim at the podium pool. If you're looking to fit an active lifestyle in your busy schedule, you can pump iron in the gym. All these luxe amenities are located within the community, so you can live fully, without skimping on convenience.

How would you live fully? You can also enjoy the best flavors without leaving far from home. The Grove Retail Row has a wide array of choices for every resident with a discerning taste for an explosion of flavor. Choose between exotic cuisines, or casual dining, which are perfected to suit the palate. You can have your lifestyle, your home in Pasig City.

You can experience condo living like you've never experienced before in 32 Sanson by Rockwell, bringing new meaning to urban development. Situated in Lahug, Cebu, get all the conveniences of living within the city, while still maintaining a sense of peace and serenity. You can do this as you keep in touch with nature within the development.

Within the four residential towers are a wide array of amenities and facilities which can cater to every need and lifestyle. Additionally, just beyond your doorstep is 3.2 hectares of land, sprawling with greenery. This is masterfully planned, well-thought-out, and artfully landscape. You can now find your new home in the Queen City of the South and even feel the natural Cebuano warmth through the vibrant community.

Hotel and Leisure
A wholly-owned subsidiary is the newest segment arm of Rockwell Land, Rockwell Hotels and Leisure Management Corporation. In the future, look for its expansion projects, developing its own line of premium hotels and leisure clubs.

One such leisure club is our accommodation in Makati City is Aruga by Rockwell. Rockwell is now making its foray into Makati accommodations and leisure options after 20 years of redefining and creating quality living, all the while re-envisioning the Makati skyline. Keeping its signature brand of exclusivity and luxury for its patrons, it still keeps its reputation for its attention to detail. Thus, Aruga by Rockwell is proof that Rockwell takes pride in providing foresight for the little things amidst the backdrop of outstanding and sincere hotel service.

Inspired by the Asian Contemporary style, Aruga by Rockwell has 114 fully-furnished apartments infused with the Rockwell signature. It does this with sophisticated interior design and quality finishes. Crafted to suit the needs of every kind of traveler, these apartments have units ranging from studios to one- to two-bedroom accommodations. These Makati accommodations can fit the lifestyle of any jet-setting individual or the touring family.

The Rockwell Club's vision is "Redefining the Good Life", and planning for the Club officially began in January 1996. To help make this vision a reality, experts from International Leisure Consultants were brought in.

Opening its gates to the public in 1998, Rockwell Center was able to create a gentle, leisurely setting for city living within a year. It has since become a model for new developments around the metro. Thus, in April 1999, the Rockwell Club began to take form with the assembly of a top team. All of this was done to oversee everything from hiring the service crew, to choosing the elegant china, to taste-testing the Club's wide range of menus.

In May 1999, the creation of the Rockwell Club's greenery, pools, and landscape architecture began. Based on cascading waters and brooks, the concept was also based on natural water elements that would run through the entire length of the whole garden.

It officially opened its doors to its members in July 1999. What's more, state-of-the-art equipment began filling up the gym, while the tennis courts were built to match globally-competitive specifications. Undertaking the task of building a new home, the Club itself went under construction to developing the Club for "the good life".

After only a month of construction, furniture prototypes were brought in and approved for production. The exterior architecture was then beginning to take shape. While this was happening, interior details, accessories, lighting fixtures, and furnishings were chosen to breathe life into the wonderful Club. Craig Roberts and Associates, an international interior design firm, saw to it that the designs created by designers Craig Roberts and Sazevich and Faulkner would come into fruition.

Presently, The Rockwell Club has indeed been succeeding in "Redefining the Good Life". Now, The Rockwell Club has been in operation for more than a decade, and it has vastly improved its facilities since then. It has also perfected and improved upon the services it renders for its patron. Still living on today, as the Club continually sets to seek new standards of luxury for its members, the Club still remembers its goal of redefining the good life today.